Car Starter – Remote Start Facts
This page contains some remote start car starter facts that you might not have been aware of. This information can help you decide who to trust with the installation of a car starter in your vehicle. For that matter, one of those choices is even to do-it-yourself. We want you to learn a few things about car starter installations, surprising things you didn't know, they say knowledge is power. We believe this knowledge is certainly useful in deciding who to get your car starter from.
Did you know? All Cars are not Equal.
Years ago like the example from the 70s to the right, ALL cars had one thing in common, none had built in computers and or micro-controller subsystems. In 2003 (example), the most "computerized" car in Germany was the BMW 7 series, the top model had 99 computers. The average for a car built today is around 50 computers. When it comes to installing a remote starter system, there are differences as to how a new installation has to interface with and connect to your vehicles computer subsystems. A properly integrated system will utilize all of the vehicles support technology by correctly connecting into it. The best remote start Car Starter Installation results come out of a highly experienced shop, they know how to get all of the stuff to work. This comes from thousands of completed installations and award winning installers.
Did you know? Neatness is important.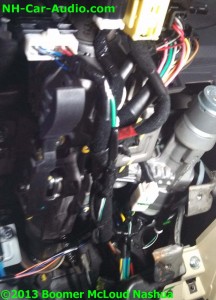 The modern car with all of the built-in electronics including 'can bus' interconnections, advanced power subsystems, and specialized cabin control systems require lots of wires.  If you can manage to look under your dash you will see hundreds of wires, all different sizes and colors, every one necessary for your car to operate properly.  Any time you add new features to your vehicle will require connecting into the existing wiring. When done properly, all is good, reliable connections, correct interface devices, and above all neatness make for a trouble free remote start car starter installation experience. The picture to the right was taken 'after' a Boomer's car starter installation was completed (click to enlarge). When done correctly, the new wiring should look very similar to existing wiring.  Nicely bundled, correct lengths, all using reliable wiring connections.
We will occasionally get the opportunity to fix or replace a competitor's or a do-it-yourself car starter installation.  These remote start installations are often 'messy' with spaghetti wire nests. Messy comes with non-reliable wiring splices, and incorrect connections.  Our best course of action usually is to remove it and start over.  Here is a couple pictures from this sort of installation.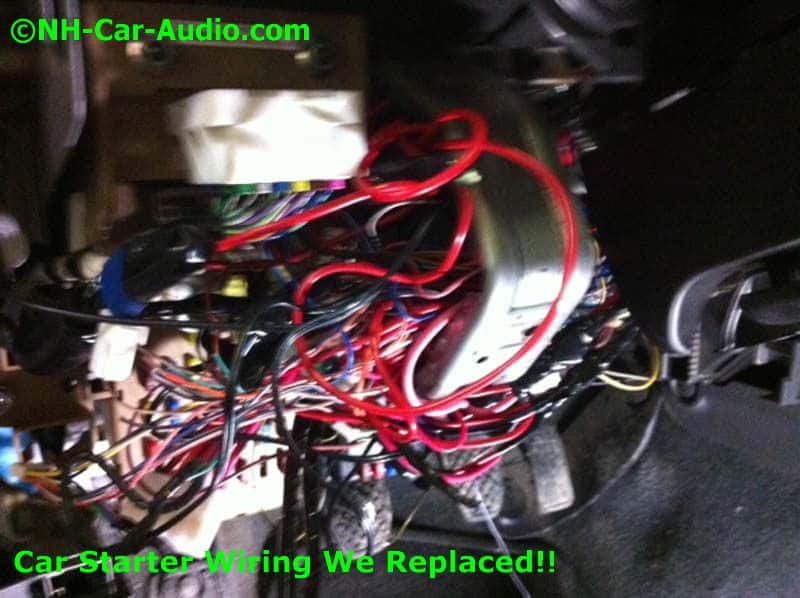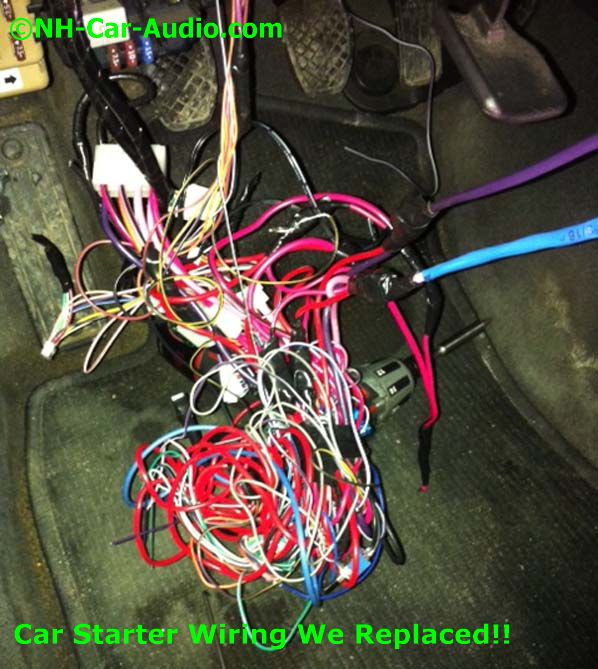 Messy wiring under your dash can cause electrical fires when unbundled wires with bad splices short out. Maintenance costs go up when the next tech installer has to work around it too.  Sometimes the wiring just starts to crawl out of the dash.  Here are some pictures showing how an excellent installation is done.  In some of the pictures the wiring is shown before the remote starter module is put in its final location. Click on any of the thumbnails to view the full size gallery photos.
 Did You Know? Cool things a Performance Remote Starter can Do.
With the advent of the smart phone comes a wealth of new ways you can bond (James Bond!) with your car. Several high performance remote starter manufacturers use the smart phone device as an active extension of their products. Using the smart phone interface you can can go beyond the normal remote starter functions:
Add Aux remote channels to control other stuff in the car
Monitor Vehicle Location / Speed
Speed Alert (sends notification when preset speed exceeded)
Social Media Check-In (would you want to share where you are?)
Lockdown Alert (you have secured it parked, notified when moves)
SmartFence (basically lets you know if the car leaves town)
Curfew (can set when its okay for car to move, or you are notified)
HotSpot (set stay away zones, get notified if car goes there)
These more advanced features can be challenging to all but the most experienced tech installers. As new Remote starter features become available, and next generation car computer subsystems increase in complexity, you need an experienced tech installer that is keeping up with these changes.  Boomer Nashua Mobile Electronics does thousands of Car Starters, and employs award winning installers to ensure that every job we do is done perfectly.
Did You Know? All Car Starter Installation Warranties aren't Equal.
Do you consider the warranty when buying a remote car starter installation for your car? You might think about asking these questions:
Does a great car starter installation ever break?

Not as often as a poorly installed one

If it breaks do I have to pay for more parts?

Boomer Nashua Mobile Electronics extends car starter parts warranties to the life of the car.

If the parts are under warranty, do I have to pay to have them installed?

No, because Boomer Nashua does not charge the customer for warranty repair labor costs..

How long will the parts and labor warranty last?

Lifetime, the life of the car the remote starter was installed in while you own it.

Do all car starter installers offer lifetime warranties?

No, some offer 1 year parts and 90 days labor, it varies from store to store, that is why you need to ask and get it in writing.

Does the warranty include replacement remote batteries?

No, but we will install them in the remote if you stop in (bring your own, our buy some from us).
Just a thought: The best way to afford offering a lifetime warranty on a car starter installation is to not have it break. Barring the inevitable rule that sometimes "stuff happens", here are some inside secrets that help reduce the breaking. First, only sell quality products that you know will work great for a long long time.  Second, only employ experienced skilled, and award winning installers to produce a great low maintenance installation. Thirdly, get the correct starter product into each car, best fit means fewer possible interface bugs that might cause problems later. At Boomer's we do all of those, and more.  Our car starter installation price includes a quality product, expert installation, and lifetime support of everything. Be sure to learn all the important car starter facts before you buy.