Boomer Nashua Gift Certificates (TWO CHOICES)
Boomer Nashua Plastic Gift Card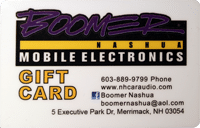 Great when you want something to wrap, or use it to hold the installation cost for one of our great Remote Starters or A custom Audio Installation. You can purchase them at our store location any time we are open, or from our online store right now.
Boomer Nashua E-Gift Certificate
We have hired a company that specializes in providing a very safe and
secure environment for our Gift Card Sales. NH-Car-Audio.com never has access to any of your personal data, and none of your personal information stored on our site.  Our store employees can only access your information by scanning your Gift card certificate. The Gift Card Store pages use the same secure HTTPS pages as NH-Car-Audio.com does. A GOOD side effect of this secure Shopping Cart is the 'Timing Out' if you get distracted and forget to complete the purchase right away. If this happens, just start over. Read more, or click the button below to Buy One Now.
A Great Gift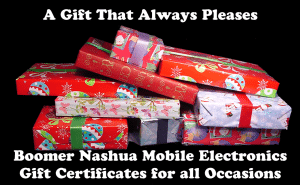 If your friend or loved one is a fan of Boomer Nashua, or for that matter a fan of high quality car upgrades, Boomer Nashua gift certificates might be just what they need.  Check through our custom installation galleries and see some of the work our award winning install technicians have done. You will find custom car/truck/bike upgrades ranging  from audio to wheels with some navigation and remote car starters thrown in for good measure.  We have worked on all cars domestic and foreign, trucks, motorcycles, boats, and even the very expensive exotic cars. Whats nice about Boomer Nashua gift certificates is that if your friend or loved one wants to upgrade to a better one of what ever you thought they wanted, all they do is add some of their own funds to your gift.  This is sweet because even if you only paid for part of it, realistically what ever they get is from you.  I call that a great gift myself.  Maybe they needed new subs, so you gave a gift certificate that would cover some nice mid price range ones.  They decided to add a new amp and got a better enclosure too.  When they hear that sweet new sound, they will always think of that great gift from you.
What is it Good For?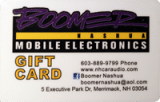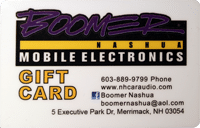 Anything and everything we do including products and installation, Here are some examples:
Remote Car starters
Car Alarms
Advanced Navigation Systems
Satellite Radio
Wheels and Rims
Car Lighting inside or out
Radar Detection Systems (Radar and Laser)
Video panels (ceiling mount, seat back, in dash, and other places too)
New seats or seat covers
Speaker upgrades
Multimedia systems
Smartphone and iPhone/iPod interfaces
Interior Repair
GPS solutions
Custom Sub Enclosures
Window Tinting
Air Ride systems
HID or LED headlights and taillights
See our Services page here, or our Suppliers page here