NEW Boomer Nashua Store Construction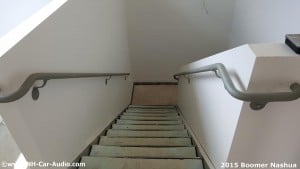 Our new facility is coming along great and our grand new store opening will be happening soon. It has taken over a year to get to this point, and there certainly wasn't much to see til the last month.  Like any large project, there is always significant planning that must be done up front. This new Boomer Nashua Store construction project is certainly more complex that the award winning Cadillac Escalade with Suicide Doors, or the Cover Motorcycle on American Bagger we did a few years back. Planning is important in any project, that is why when you bring in YOUR project, you can count on it getting planned, installed, and completed every time.
A huge Thank-you to our loyal customers for letting us serve your mobile electronics needs these past few years.  It has been challenging trying to keep up last year, mostly because of the lack of service bays. We expanded our hours, squeezed in a bit more work space for our shop, now we will finally have some breathing room in there, and the ability to have more jobs on the schedule each day. The new Boomer Nashua store is less than 4 miles from here located in Merrimack, NH. Our service area will go from the 3 old bays to 10 new bays. Our store square footage increases by 4 times to 10,000 square feet. And best of all, we will now have a 2700 square foot show room, more space, more good stuff to show.
Join us in our building adventure, check back frequently, we will add new pictures to the gallery below every few days as the construction progresses. The newest pictures are now at the top, so if want to see the beginning start at the bottom of the gallery. A map to our new location can be found just below the gallery pictures to help you find your way.

NEW Boomer Nashua Store Construction Site